I should start with a brief description of my "standard" striper fly fishing trips, so readers can understand what I do.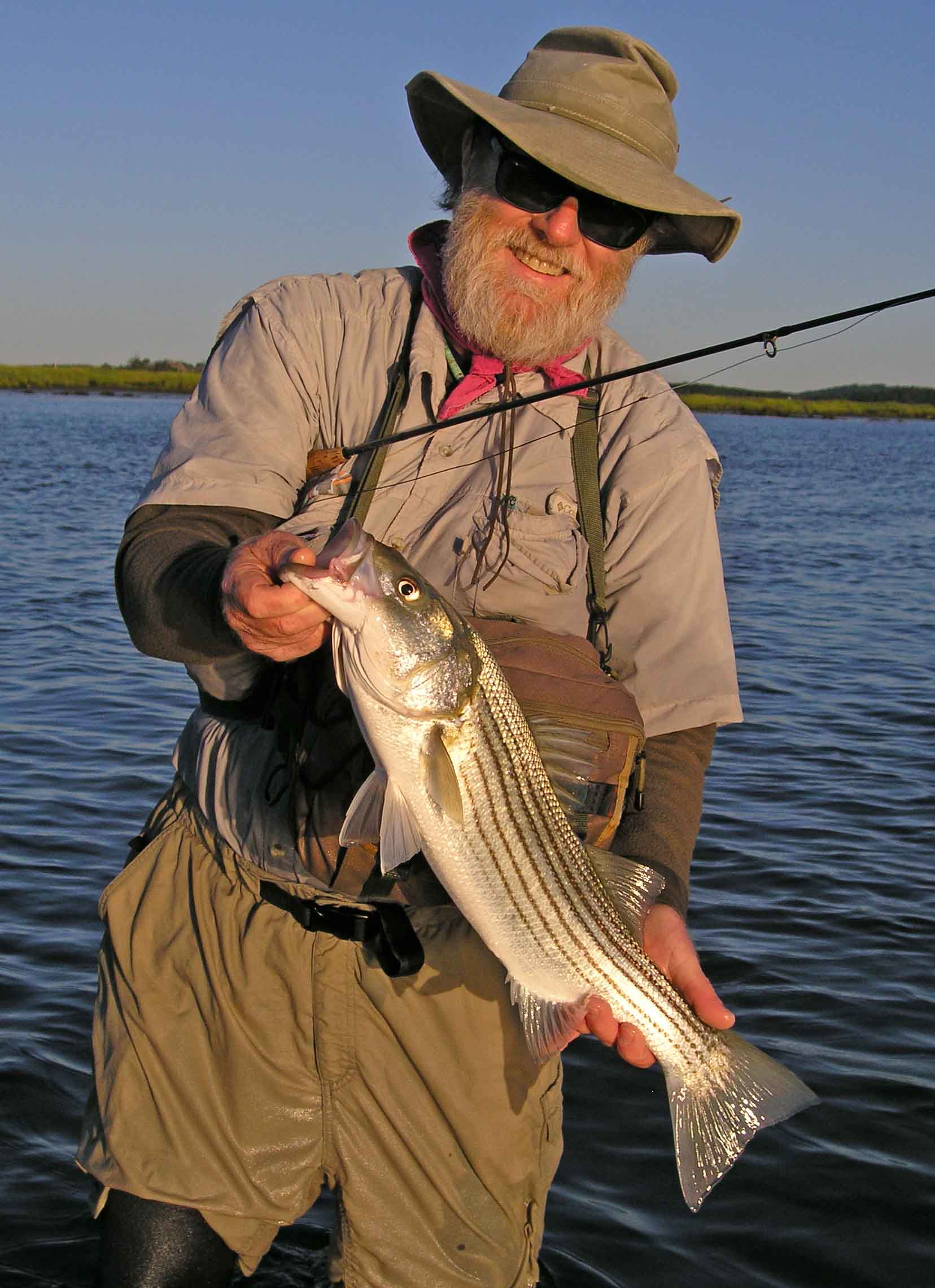 I fish in an Ipswich estuary, using canoes (or a kayak, if I'm by myself), putting in well up a tidal river at about two to three hours after high tide. I paddle downriver on the ebb, stopping to wade in known good stretches, and then after a snack at the turn of the tide, I fish back upriver in the same manner during the rising tide.
I use ultralight fly tackle for almost all of my fly fishing: for stripers, steelhead and Atlantic salmon as well as trout and landlockeds. My favorite go-to rod is a 6.5′ two-weight, though if the wind starts to howl, I'll go all the way up to a 6.5′ or 7′ four-weight.
How to cast them in a stiff breeze? Ah. My 6.5′ two-weight is usually rigged with a 15′ to 18′ fast-sink #6 or #7 shooting head, backed by 50′ of flat mono-filament shooting line, which allows one to put a lot of backing on a relatively small reel. My 7′ four-weight is rigged similarly with an 18′ (or so) #6, #7 or #8 shooting head that is matched to the rod as best I can.
OK. I went downriver for the first time this season on May 23 with my friend, Andy, after hearing that the fish had arrived on Saturday afternoon in the Ipswich area. We did find some fish while trolling between stops but mostly by casting in a few good spots.
There were no fish in many of the normal holding areas where I do expect to find them. I take that to mean that the fish, having freshly arrived in the river, had not really settled in yet.
We covered a lot of territory and saw how much the bars in the lower river had shifted around, creating new channels and good-looking stretches that I look forward to checking out further as this season progresses. The fishing seemed a bit better on the ebbing tide than on the rise, though we did catch a few on the incoming tide with some sea lice on them. I think between us that day, Andy and I caught about two dozen fish over nine to 10 hours.
On May 24, I took out two older gentlemen on a day when I should have cancelled the trip due to very high winds. The forecast was for 10 to 12 knot winds, and I get nervous if it says over 10 knots, since the Weather Channel is quite apt to understate wind velocities on such days.
Well, we ended up dealing with 20 to 25 knot winds that made canoeing extremely difficult. Furthermore, rather to my surprise, the fishing totally sucked. A lot of wind doesn't help with the casting, and stirs up a lot of turbidity in the water, but the fact that after trolling to our first stop, during which time we picked up six to seven small fish in transit, which I thought meant that we'd have a good trip, we caught no fish at all for the entire rest of the trip!
We fished a lot of good water and covered it well and quite carefully. We had a few soft hits from fish that never got on any of our hooks. We quit earlier on the tide than I normally do because of the wind, and I was glad that we did. We then had windward marsh banks to shelter behind so we could control the canoe a bit better in this stiff breeze.
On this trip, I invoked my "Fish Guarantee" and so offered to take them both out again gratis, which I hope we will do later in the summer when the fishing is much better than it was last week.
The third trip I'll write about took place on May 26 since I had to cancel a trip due to a wind forecast to blow at 20 knots! No thanks, not after what we went through previously with a forecast of 12 knots.
I'm glad I cancelled, as it blew pretty hard on that Friday. Saturday looked much better, with wind of five to 10 knots from SW shifting around to NE. We hit into some fish trolling to our first stop, and at our first place where we stopped to wade and cast, I caught nine fish in three different areas, including a beautiful 32" striper that took 100 to 150 yards of line out and argued with me over it for about 10 minutes before I won the argument.
My friend Michael took some video of my final moments of the fight and landing the fish.
The rest of the trip was a lot tougher, and the fish were very elusive, and absent from many expected holding areas. Michael had three to four fish while trolling, as did I, but he got no takes while casting, even though we were using the same fly. Sometimes that happens, for unclear reasons.
I was casting about 15′ to 20′ feet farther than he was, and that may have been the key difference. He was casting over fish, but they weren't being very cooperative for him!
So, once again, at the end of the trip, because he had really tried very hard and was being a really good sport about it, I invoked my "Fish Guarantee" and will be taking him out again soon, hopefully when the fishing is a whole lot better than it was last week. We had a great time fishing together on this trip.
I'm planning – Weather Gods permitting – to be out on the river again for the next five days, so I'll have a report on my fishing over this coming "peak dawn tide" weekend (defined as the time two to three hours after high tide coincides with first light, which occurs about 90 minutes before sunrise) on Tuesday if I find time to write it.
In the meantime, enjoy your fishing!
238 views